THE EUROPEAN CENTRE FOR ELECTORAL SUPPORT (ECES)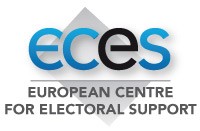 The European Centre for Electoral Support (ECES) is a non-profit private foundation headquartered in Brussels with a global remit. ECES promotes sustainable democratic development through the provision of advisory services, operational support and management of projects and large basket funds in favour of electoral processes. ECES works with all electoral stakeholders, including electoral management bodies, civil society organizations involved in civic & voter education and election observation, political parties and parliaments dealing with electoral reforms, media, security forces and legal institutions confronted with electoral dispute resolution.
ECES holds the Vice Presidency of the European Partnership for Democracy (EPD) and coordinates the implementation a joint strategy devised with the partners of EPD called "A European Response to Electoral Cycles Support". EPD is one the most important network of European civil and political society organisations working on democracy assistance. EPD is the first Community of Practice on democracy assistance operating at the EU level advocating for a stronger presence of democracy support on the European Union's agenda and facilitates the exchange of knowledge and best practices in democratic transformations around the world. In this context, the joint experiences of the relevant members of the European Partnership for Democracy provide the needed knowledge and expertise to implement a robust European response to electoral support activities.
From February 2012 to February 2016, ECES signed over 60 contracts in support of electoral processes and strengthening of democratic institutions. ECES therefore boasts a wealth of experience and expertise in electoral support projects stemming from near all regions across the globe. In these four years , ECES have implemented its activities in more than 35 countries mainly, but not exclusively, in Africa and Middle East. In addition to that, the founders and personnel of ECES have acquired extensive field experience and, taken together, ECES can count on a specific knowledge and a well-established network in over 70 countries around the world.
The Projects IT technical elements are ensured via ECES longstanding collaborator Democracy Essentials (DE).
Project Focal Points
HQ Rep. Local Rep.
Victoria Florinder Anne Sofie Gerhard
victoria.florinder@eces.eu anne-sofie.gerhard@eces.eu